Product Summary
The SCC2692AC1A44 dual universal asynchronous receiver/transmitter (DUART) which is compatible with the SCN2681. The SCC2692AC1A44 is a single-chip CMOS-LSI communications device that provides two full-duplex asynchronous receiver/transmitter channels in a single package. The SCC2692AC1A44 interfaces directly with microprocessors and may be used in a polled or interrupt driven system.
Parametrics
SCC2692AC1A44 absolute maximum ratings: (1) Storage temperature range TSTG: -65 to +150°C; (2) Voltage from VCC to GND, Vcc: -0.5 to +7.0V; (3) Voltage from any pin to GND Vs: -0.5 to Vcc to +0.5V; (4) Package power dissipation: 2.66W; (5) Derating factor above 25°C: 21mW/°C.
Features
SCC2692AC1A44 features: (1) Dual full-duplex asynchronous receiver/transmitters; (2) Quadruple buffered receiver data register; (3) Programmable data format; (4) 16-bit programmable Counter/Timer; (5) Programmable baud rate for each receiver and transmitter; (6) Parity, framing, and overrun error detection; (7) False start bit detection; (8) Power down mode; (9) Receiver timeout mode; (10) Commercial and industrial temperature range versions; (11) TTL compatible; (12) Single +5V power supply.

Diagrams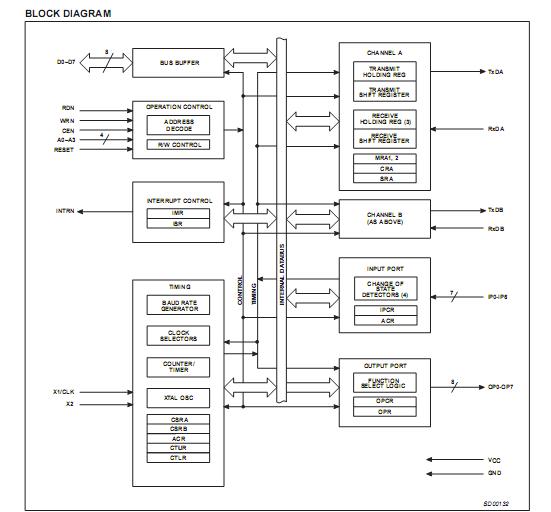 Image
Part No
Mfg
Description
Pricing
(USD)
Quantity

SCC2692AC1A44

NXP Semiconductors

UART Interface IC 2CH. 5V IND. UART

Data Sheet

Negotiable

SCC2692AC1A44,512

NXP Semiconductors

UART Interface IC 2CH. 5V IND. UART

Data Sheet



| | |
| --- | --- |
| 0-1: | $3.90 |
| 1-25: | $3.15 |
| 25-100: | $2.54 |
| 100-250: | $2.51 |


SCC2692AC1A44,518

NXP Semiconductors

UART Interface IC 5V INDUSTRIAL UART 2 CHANNEL

Data Sheet



| | |
| --- | --- |
| 0-1: | $2.37 |
| 1-25: | $2.33 |
| 25-100: | $2.25 |
| 100-250: | $2.21 |


SCC2692AC1A44,529

NXP Semiconductors

UART Interface IC 5V INDSTRL UART 2 C

Data Sheet



| | |
| --- | --- |
| 0-1: | $4.06 |
| 1-25: | $3.69 |
| 25-100: | $3.33 |
| 100-250: | $3.06 |


SCC2692AC1A44-S

NXP Semiconductors

UART Interface IC 5V INDSTRL UART 2 C

Data Sheet

Negotiable