Product Summary
ST7FLITE05Y0M6 is an 8-bit microcontroller with single voltage flash memory, data EEPROM, ADC, timers, SPI. The ST7FLITE05Y0M6 features FLASH memory with byte-by-byte In-Circuit Programming (ICP) and In-Application Programming (IAP) capability. The ST7FLITE05Y0M6 can be placed in WAIT,SLOW, or HALT mode, reducing power consumption when the application is in idle or standby state.
Parametrics
ST7FLITE05Y0M6 absolute maximum ratings: (1) Supply voltage, VDD-VSS: 7.0V; (2) Input voltage on any pin VIN: Vss -0.3 to VDD +0.3V; (3) Total current into VDD power lines (source) IVDD: 75V; (4) Total current out of Vss ground lines (sink) IVSS: 150V; (5) Output current sunk by any standard I/O and control pin: 20mA; (6) Output current sunk by any high sink I/O pin: 40mA; (7) Output current source by any I/Os and control pin: -25mA; (8) Total injected current (sum of all I/O and control pins) : ±20mA.
Features
ST7FLITE05Y0M6 features: (1) Clock, Reset and Supply Management; (2) Interrupt Management; (3) I/O Ports; (4) 2 Timers; (5) 1 Communication Interface; (6) A/D Converter; (7) Instruction Set; (8) Development Tools.
Diagrams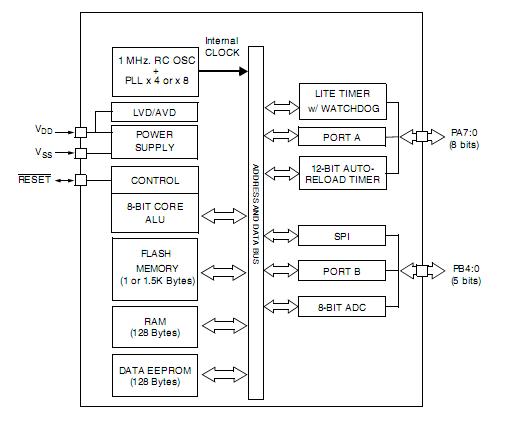 Image
Part No
Mfg
Description
Pricing
(USD)
Quantity

ST7FLITE05Y0M6

STMicroelectronics

8-bit Microcontrollers (MCU) Flash 1.5K SPI Intrf

Data Sheet



| | |
| --- | --- |
| 0-1: | $1.76 |
| 1-10: | $1.42 |
| 10-100: | $1.29 |
| 100-250: | $1.16 |

Image
Part No
Mfg
Description
Pricing
(USD)
Quantity

ST7F2324BJ2B6

STMicroelectronics

8-bit Microcontrollers (MCU) ST72 MCU 8 KB

Data Sheet



| | |
| --- | --- |
| 0-195: | $1.77 |
| 195-250: | $1.58 |
| 250-500: | $1.42 |
| 500-1000: | $1.19 |


ST7F2324BJ2T6

STMicroelectronics

8-bit Microcontrollers (MCU) ST72 MCU 8 KB

Data Sheet



| | |
| --- | --- |
| 0-195: | $1.67 |
| 195-250: | $1.49 |
| 250-500: | $1.34 |
| 500-1000: | $1.12 |


ST7F2324BJ4B6

STMicroelectronics

8-bit Microcontrollers (MCU) ST72 MCU 16 KB

Data Sheet



| | |
| --- | --- |
| 0-195: | $1.97 |
| 195-250: | $1.75 |
| 250-500: | $1.58 |
| 500-1000: | $1.32 |


ST7F2324BJ4T6

STMicroelectronics

8-bit Microcontrollers (MCU) ST72 MCU 16 KB

Data Sheet



| | |
| --- | --- |
| 0-195: | $1.84 |
| 195-250: | $1.63 |
| 250-500: | $1.47 |
| 500-1000: | $1.23 |


ST7F2324BJ6B6

STMicroelectronics

8-bit Microcontrollers (MCU) ST72 MCU 32 KB

Data Sheet



| | |
| --- | --- |
| 0-195: | $2.12 |
| 195-250: | $1.88 |
| 250-500: | $1.70 |
| 500-1000: | $1.42 |


ST7F2324BJ6T6

STMicroelectronics

8-bit Microcontrollers (MCU) ST72 MCU 32 KB

Data Sheet



| | |
| --- | --- |
| 0-195: | $1.93 |
| 195-250: | $1.72 |
| 250-500: | $1.55 |
| 500-1000: | $1.30 |