Product Summary
IS61LF12836A-7.5TQI is a high-speed, low-power synchronous static RAM designed to provide burstable, high-performance memory for communication and networking applications. The IS61LF12836A-7.5TQI is organized as 131,072 words by 36 bits. Fabricated with advanced CMOS technology of the ISSI, the IS61LF12836A-7.5TQI integrates a 2-bit burst counter, high-speed SRAM core, and high-drive capability outputs into a single monolithic circuit.
Parametrics
IS61LF12836A-7.5TQI absolute maximum ratings: (1) Storage Temperature TSTG: -55 to +150°C; (2) Power Dissipation PD: 1.6W; (3) Output Current (per I/O) IOUT: 100mA; (4) Voltage Relative to Vss for I/O Pins VIN, VOUT: -0.5 to VDDQ +0.5V; (5) Voltage Relative to Vss for for Address and Control Inputs VIN: -0.5 to VDD +0.5V; (6) Voltage on VDD Supply Relative to Vss, VDD: -0.5 to 4.6V.
Features
IS61LF12836A-7.5TQI features: (1) Internal self-timed write cycle; (2) Individual Byte Write Control and Global Write; (3) Burst sequence control using MODE input; (4) Three chip enable option for simple depth expansion and address pipelining; (5) Common data inputs and data outputs; (6) Snooze MODE for reduced-power standby; (7) JEDEC 100-Pin TQFP, 119-pin PBGA, and 165-pin PBGA packages; (8) Automotive temperature available; (9) Lead-free available.
Diagrams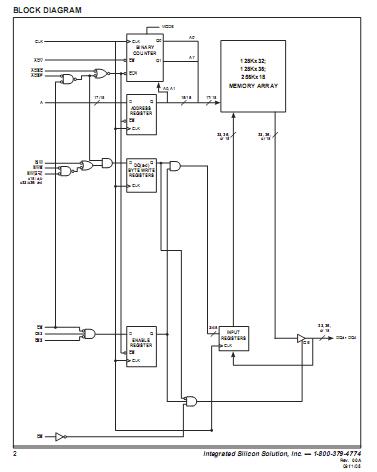 Image
Part No
Mfg
Description
Pricing
(USD)
Quantity

IS61LF12836A-7.5TQI

ISSI

SRAM 4Mb 128Kx36 7.5ns Sync SRAM 3.3v

Data Sheet



| | |
| --- | --- |
| 0-72: | $5.11 |
| 72-144: | $4.42 |
| 144-504: | $4.37 |
| 504-1008: | $4.23 |


IS61LF12836A-7.5TQI-TR

ISSI

SRAM 4Mb 128Kx36 7.5ns Sync SRAM 3.3v

Data Sheet



| | |
| --- | --- |
| 0-800: | $4.37 |
| 800-1600: | $4.23 |